Homily The Most Holy Trinity Sunday. Year A. - Sunday, June 11, 2017


THE LITURGY OF THE WORD
First Reading: Exodus 34:4-6. 8-9
Psalm: Daniel 3:52-56
Second Reading: 2 Corinthians 13:11-13
Gospel: John 3:16-18
++++
Please listen to my audio recordings of the readings, prayers and reflections for the The Most Holy Trinity Sunday. Year A. - Sunday, June 11, 2017 by clicking this link here: https://soundcloud.com/user-633212303/faith-hope-and-love-trinity-a
+++++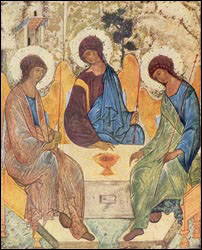 (Trinity Sunday)
The celebration of God as Trinity also reveals to us the true nature of God and the true meaning at the heart of the universe… : - community… communion…, unity and… sharing…, giving and taking…, harmony…, LOVE……. The world cries out and hungers and thirsts for that which God has in God's own inner nature! Jesus invites us to share in and participate in this wonderful relationship with God and with one another… and it (in turn) makes us more generous, sharing, community focused and serving and sacrificing… more loving… that is at the heart of the discipleship into which Christ calls us.


If we look at what Jesus hungered for and what he did not hunger for, it is very revealing. …..He did not hunger for money;… in fact he warned us to be very wary of its hollow charms, as… we cannot serve both God and wealth…. He did not hunger for popularity.. and in fact by the end of his earthly life he was reviled, abandoned and condemned… and the popularity contest was shockingly won by a thief and a brigand and a murderer… - Barabbas, who was released instead of the innocent one!! The gospels reveal so many more thirsts and hungers of Jesus… and their polar opposites…. He longed to share… with others.. he thirsted for other's faith and participation…


It breaks your heart doesn't it… seeing so many people searching for something that will truly satisfy their longings…. And yet… they go down paths that seem life-giving.. seem attractive… but ultimately prove to be dead ends and unsatisfying…… but does it stop us…. No…. we rush down the path of the next attractive glittering possibility…. Whether it be pursuit of money, power, influence, celebrity, ….. so many things in this world and in this society cry out for our attention and invite us to get enmeshed in them…… May the Spirit of truth guide us as we discern, through the light of Jesus' words and actions, just what are the life-giving treasures to put all our heart and soul into…


In so many ways, people have asked themselves "now that I am following Jesus, what shall I DO in practical ways.... to make a difference......" God has answered their prayers in many very satisfying ways that bring grace and benefit and service to so many.. people have joined the St Vincent de Paul society and done practical actions to make a difference.. others have joined so many of the other wonderful variety of ministries and activities of the parish's mission ... the list is wonderfully long./... there is so much to do.. and God is calling each one of us...
+++++++
References:
Fr Paul W. Kelly


+++

Archive of homilies and reflections is at:
http://homilycatholic.blogspot.com.au

To contact Fr. Paul, please email:
paulwkelly68@gmail.com


You are welcome to subscribe to Fr Paul's homily mailout by sending an email at this address:

paulkellyreflections+subscribe@googlegroups.com
The Most Holy Trinity Sunday. Year A.
The grace of our Lord Jesus Christ, and the love of God, and the communion of the Holy Spirit be with you all.

+++++++++++++

Brothers and sisters, let us acknowledge our sins,
and so prepare ourselves to celebrate the sacred mysteries.

Lord Jesus, you have revealed yourself as the way to the Father: Lord, have mercy//You have poured out on your people the Spirit of truth: Christ, have mercy//You are the Good Shepherd, leading us to eternal life: Lord, have mercy.//

++++++++++++++

Memorial Acclamation


Save us, Saviour of the world, for by your Cross and Resurrection you have set us free.
++++++++++++++++++++++++++

Preparation of the Gifts

Blessed are you, Lord God of all creation, for through your goodness we have received the bread we offer you: fruit of the earth and work of human hands, it will become for us the bread of life.
Blessed be God for ever.

Blessed are you, Lord God of all creation, for through your goodness we have received the wine we offer you: fruit of the vine and work of human hands, it will become our spiritual drink.
Blessed be God for ever.
Pray, brothers and sisters, that my sacrifice and yours may be acceptable to God,
the almighty Father.
May the Lord accept the sacrifice at your hands, for the praise and glory of his name, for our good and the good of all his holy Church.


Trinity p.33
Various Needs and Occasions 1 . p.66


++++

Go and announce the Gospel of the Lord.
--
You received this message because you are subscribed to the Google Groups "Catholic Reflections (Fr Paul Kelly archives)" group.
To unsubscribe from this group and stop receiving emails from it, send an email to
paulkellyreflections+unsubscribe@googlegroups.com
.
For more options, visit
https://groups.google.com/d/optout
.